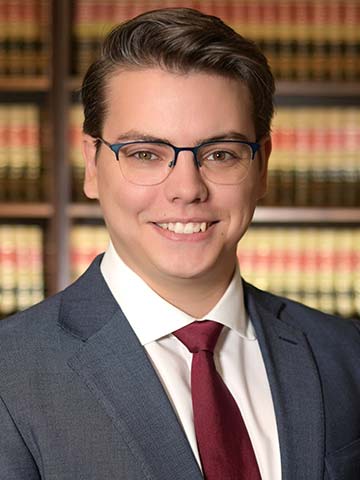 Taran Wessells is from Ypsilanti, Michigan. He grew up with a family of special education teachers and administrators and learned early in his life that passion, care, and support can make a tremendous difference in the lives of students who need special education and their families. Taran graduated from Loyola University Chicago cum laude with degrees in History and Political Science. While studying at Loyola University Chicago, Taran competed with the school's Mock Trial and Moot Court teams, earning a national quarterfinalist place in the national collegiate Moot Court tournament. Taran attended William & Mary Law School in Williamsburg, Virginia.
During his studies at William & Mary, Taran competed with the Moot Court team where he was a finalist in the annual Bushrod T. Washington Moot Court tournament and a regional finalist in the ABA NAAC National Moot Court Tournament. In addition, Taran served on the William & Mary Bill of Rights Journal and won Best Note of 2021 for his student Note "Petitions from the Grave: Why Federal Executions Are a Violation of the Suspension Clause." As part of his legal studies, Taran worked in the Lewis B. Puller, Jr. Veterans Benefits Clinic and the William & Mary Appellate and Supreme Court Clinic.
Taran lives in Durham. He loves to cook, bake, and enjoy everything Durham has to offer with his fiancée.