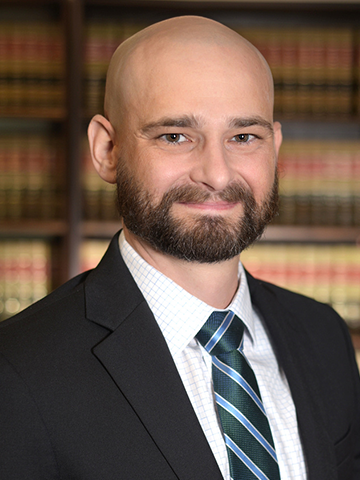 James is a native of Durham who grew up just two miles from our office. He graduated from North Carolina State University with a B.A. in History in 2007. In 2010-2011, he spent a year working for Americorps in New Orleans, restoring houses that had been damaged by Hurricane Katrina.

He worked as a special education teacher's assistant and alternative education teacher in Loudoun County and Rappahannock County, Virginia, respectively. He moved to San Diego County, California, where he worked with children with autism as an in-home behavioral therapist. He then returned to alternative education, and worked as a college and career skills teacher and a reading specialist with English language learners, while he taught GED courses in the evening.

He graduated from Campbell University School of Law in 2023. While in law school he hosted a panel on epilepsy, family medicine and the law. In 2022, he attended a summer program at Cambridge University, Sidney Sussex College, where he studied E.U. Law and Education as a Human Right. He is working towards an L.L.M. in International Legal Studies from Nottingham Law School in the United Kingdom.

James lives in Pittsboro, North Carolina. He enjoys playing disc golf and spending time with his nephew.